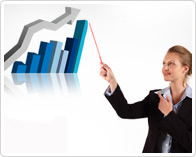 For the past few years we have been processing the payroll and/or accounting for several international companies and more specifically their employees in Bulgaria. Some of our distinct international clients include, but are not limited to: Pelco Corporation (USA), Nokia Corporation (Finland) & Connect44 (Switzerland), Omnidigit Solutions (Cyprus), Compandben (Switzerland), Yakoub Group (Israel), Rotrex (Denmark) (references can be provided upon request). Since we are a small enterprise we can be very flexible at accomodating various changes and we do care about every customer and their needs. We strive to provide the best expertise on the market at the lowest possible cost. By outsourcing your payroll needs to Motion you will have more time to dedicate to your main line of business.
Motion aims at providing payroll and accounting services to its customers not just in terms of professionalism but also in terms of quality & processing speed. To be able to achieve this we are partnering with our own IT department, allowing us to deploy specific services or custom software solutions where needed.
We offer preparation and submission of the following main accounting and payroll documents with the respective authorities:
Annual company financial reports;
Profit and loss statements;
Cahsflow statements;
Capital statements;
Annual balance;
Payroll statements;
Monthly VAT declarations;
Prepration of the necessary documentation for social security payments;
Prepration of the necessary documentation for the tax authorities;
All other necessary statements according to the national standards of Bulgaria;
Representation in respect to the tax authorities of Bulgaria.
Motion's accounting services include up-to date book keeping of your accounting ledges in accordance with the Accounting Act as well as the supplemental tax and social security regulations and standards. We will prepare for you all necessary annual reports, cash flow statements, VAT statements, balances as well as all the other necessary reports required by the National Income Agency in Bulgaria.
Our professional accountants will take care of all the necessary documentation and the paper work involved and will keep you updated of any changes in the accounting standards or regulations that may affect your business. If you plan on having business activity in Bulgaria, please note that other than having accounting services you will need payroll services too.
All of our accounting services are provided in accordance with the national regulationals (National Accounting Standards) as well as with the International Accounting Standards. We are able to provide you with a complete service cycle for your accounting and payroll needs.
Please do not hesitate to contact us to further discuss your specific requirements and needs.