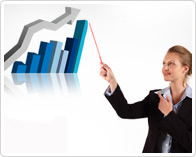 For the past few years we have been processing the payroll and/or accounting for several international companies and more specifically their employees in Bulgaria. Some of our distinct international clients include, but are not limited to: Pelco Corporation (USA), Nokia Corporation (Finland) & Connect44 (Switzerland), Omnidigit Solutions (Cyprus), Compandben (Switzerland), Yakoub Group (Israel), Rotrex (Denmark) (references can be provided upon request). Since we are a small enterprise we can be very flexible at accomodating various changes and we do care about every customer and their needs. We strive to provide the best expertise on the market at the lowest possible cost. By outsourcing your payroll needs to Motion you will have more time to dedicate to your main line of business.
The payroll processing includes the following standard services:
Contract preparation and social security booklet issuing when registering each employee;
Registration of the labour contract with the National Revenue Agency (NRA) not later than 3 days after signing the contract;
Monthly calculation of the salary after deducting the social security charges, monthly transfer of the social security charges to NRA (seperate payments for pension, health, retirement scheme; seperate payments for the employee and for the employer), payment of taxes to the tax authorities;
Declaration 1 & Declaration 6 submission to NRA one day after sending payments;
Creating the relevant accounting entries before making the relevant payments to the NRA;
Declaration to NRA in case of contract changes
Calculation of seniority bonuses and vacation bonuses;
Payroll paperwork administration and issuing of a slip for every salary payment with detailed figures for social security and taxes payments;
Annual tax re-calculation and issuing a document whether additional tax payments are needed or not;
Issuing of slip declaring the salary when requested by the employee;
Calculation of outstanding payments in case of termination;
Contract termination, registration of the termination with NRA not later than 7 days;
Additional services can be negotiated and are subject to additional specification and fees.
Our professional accountants will take care of all the necessary documentation and the paper work involved and will keep you updated of any changes in the accounting standards or regulations that may affect your business. If you plan on having business activity in Bulgaria, please note that other than having accounting services you will need accounting services too.
All of our accounting services are provided in accordance with the national regulationals (National Accounting Standards) as well as with the International Accounting Standards. We are able to provide you with a complete service cycle for your accounting and payroll needs.
Please do not hesitate to contact us to further discuss your specific requirements and needs.